Everyone could have an audience.
This intro video explains briefly what I mean:
Good companies have customers. Great companies have an audience.
You can also have an audience. People are waiting for you to show up, and lead them to where they want to go.
And these people will be more than happy to give you two of the most important resources in today's economy: Their time and attention.
To get customers, you need to pay them to pay attention. But an audience is a tribe. They are true fans, who can't wait to see the next thing you make. And they cheer you on to make more.
You're not late for this.
Yes, the best time to start was 10 years ago, but the second best time to start is today. You're not late, and there is still plenty of room here for creators.
To prove this idea, I did an experiment. I started a new page for my personal brand in September 2019 to test my Instagram content strategy, to test if hashtags still work and if it's still possible to grow an audience from scratch.
Before that, I already grew 2 accounts in space exploration, one to 70K followers, the other one to 170K, but I wasn't sure if I can do it again in a different niche.
In 2 months, I reached 20K followers on my brand new account, using the techniques that I now teach to all of my students.
The answer isn't just more content.
The answer is better content and better distribution. It's all about figuring out who you want to reach, and how you can help them. And once you have that, figuring out how you can reach them where they are with the message they need to hear. That's what it means to have better content and better distribution.
It's not about the beautiful design, the cinematic video quality or the beach bikini shots. Although these certainly help, they are not necessary to find your followers. To find the people you want to help. Not everyone, but enough people that you can build a sustainable business that serves them.
This is not a scheme to make more money
There are plenty of people out there selling courses that promise you to make you rich. I'm not one of them. This course is not about how you can trick people to buy from you.
This course is about building your audience by sharing anticipated, personal and relevant messages that people want to hear.
This course is about building long-term relationships with people all over the world, not increasing short-term attention to boost sales.
This course is about giving. Giving knowledge, entertainment, motivation, inspiration and support. Giving freely, generously and consistently. Showing people behind the scenes, opening yourself up, letting them in and allowing them to take what they need.
You don't need a team
I didn't have one either. I built my audience alone while I was going through medical school. I built everything on the side next to the boring lectures, impractical practices and unnecessary exams we had.
After coming home from school, I spent a few hours every day to create content and build my business. I found time for the things I wanted to do and were important to me.
Once I built a big enough audience that my business became sustainable, I dropped out of medical school and took on the mission to change the education system, to eliminate everything I hated, and make learning better and more accessible for everyone.
Who is it this Instagram course for?
The Hard Workers
This course is not easy, because easy is not where learning happens. Learning happens when something is difficult. It happens under challenge and through failure.
I wish I could tell you my course is the easy fix, but it's not. Your hard work and dedication is the secret you were looking for. It's all within you.
Creatives
Getting known is crucial to get more work. Showcasing your work the right way and reaching new people with it is the key. The question is not whether you'll benefit from having a bigger audience or not.
The question is how will you benefit from it. Will you be able to get more monthly patronage from your fanbase? Or will you get hired to perform on stages in front of people who love your craft? It's entirely up to you.
Marketers
Whether you run an agency or do things solo, great content helps you get more exposure to you and your services.
Developing your content creation skills will not only help you make better content for yourself, but also increase the value you can give to your clients.
Influencers
In the age of fake followers and like numbers, smart brands prefer to measure reach and conversions.
To improve that, you must engage with your followers on a deeper level by making content that resonates with them, that builds trust with them, and attracts the right people to follow you.
Entrepreneurs
As an entrepreneur, your personal brand and your company's brands are valuable assets. To increase the brand awareness you have, you need trust first.
The way to build trust is by showcasing your company the right way and showing your prospects what you do, instead of telling them. And by the time they contact you, they are already warm leads, because they have been consuming your content for a long time.
What the course is like
The Instagrizzle Masterclass is built using Teachable to provide you the best learning experience possible. This platform is used by more than 83,000 instructors, teaching more than 23,000,000 students worldwide.
It's not just videos. Throughout the program, you will be challenged by exercises to help develop the skills you need and quizzes to check your knowledge and identify your blind spots.
For some of the exercises, I provide Google Sheets templates that you can use instantly.
You can comment under all the lectures to get clarity on something you're struggling with, either from me or other students who signed up for the same journey with you.
Once you sign up for the course, you will have access to our secret Alumni group on Facebook with 130+ students inside.
The most important rule of learning applies here: the more you put in, the more you'll get out. I'm not giving you a certificate but something much more valuable: a different way to see Instagram.
Join the Instagrizzle Masterclass
today for $399!
What you will learn inside the course: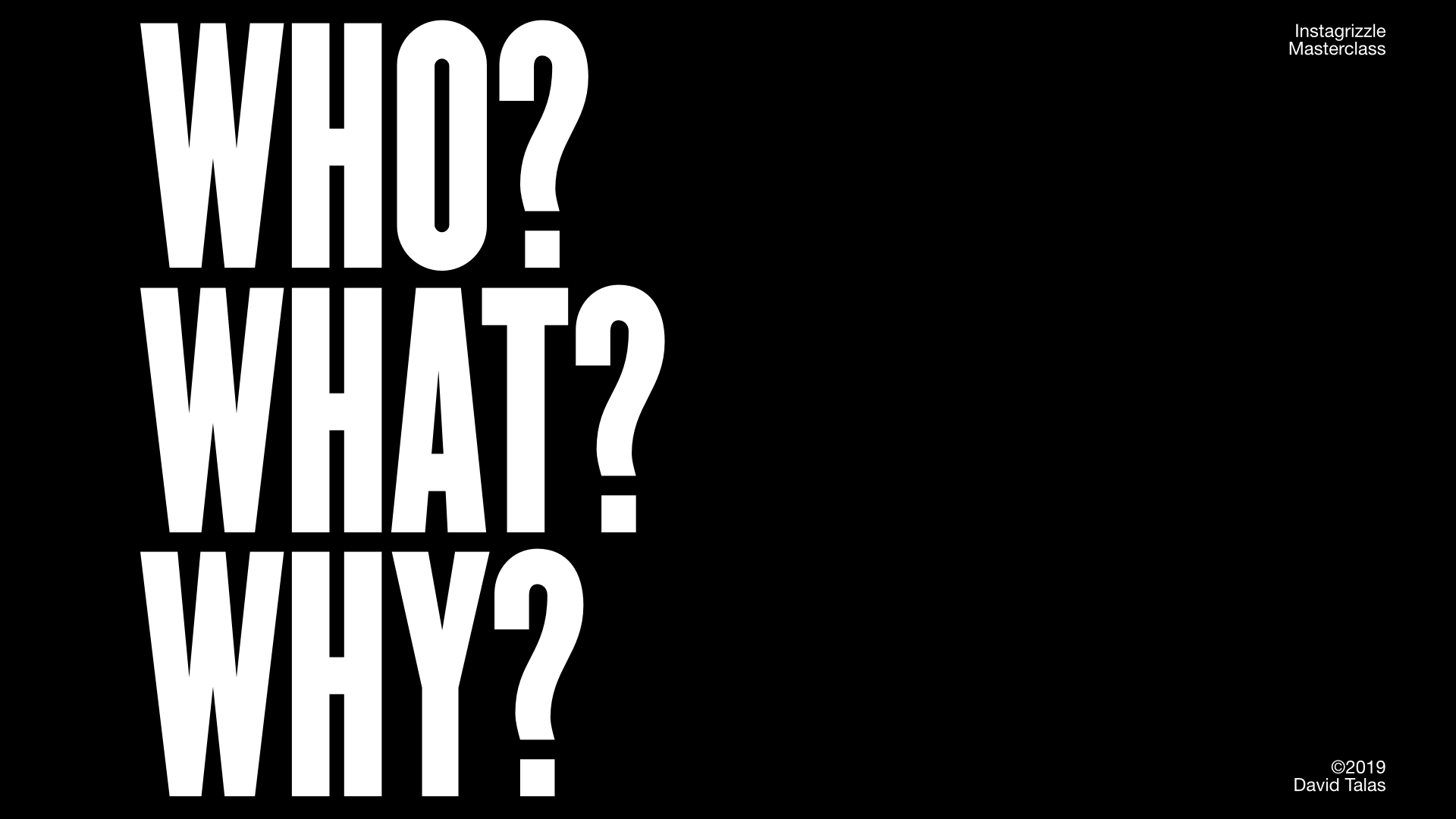 1. How to find your audience
The foundation of successful communication is the receiver. Therefore, defining your target audience is the core foundation of Instagram. In the course, you'll learn how to define your target audience, how to pick your niche and how to establish your expertise.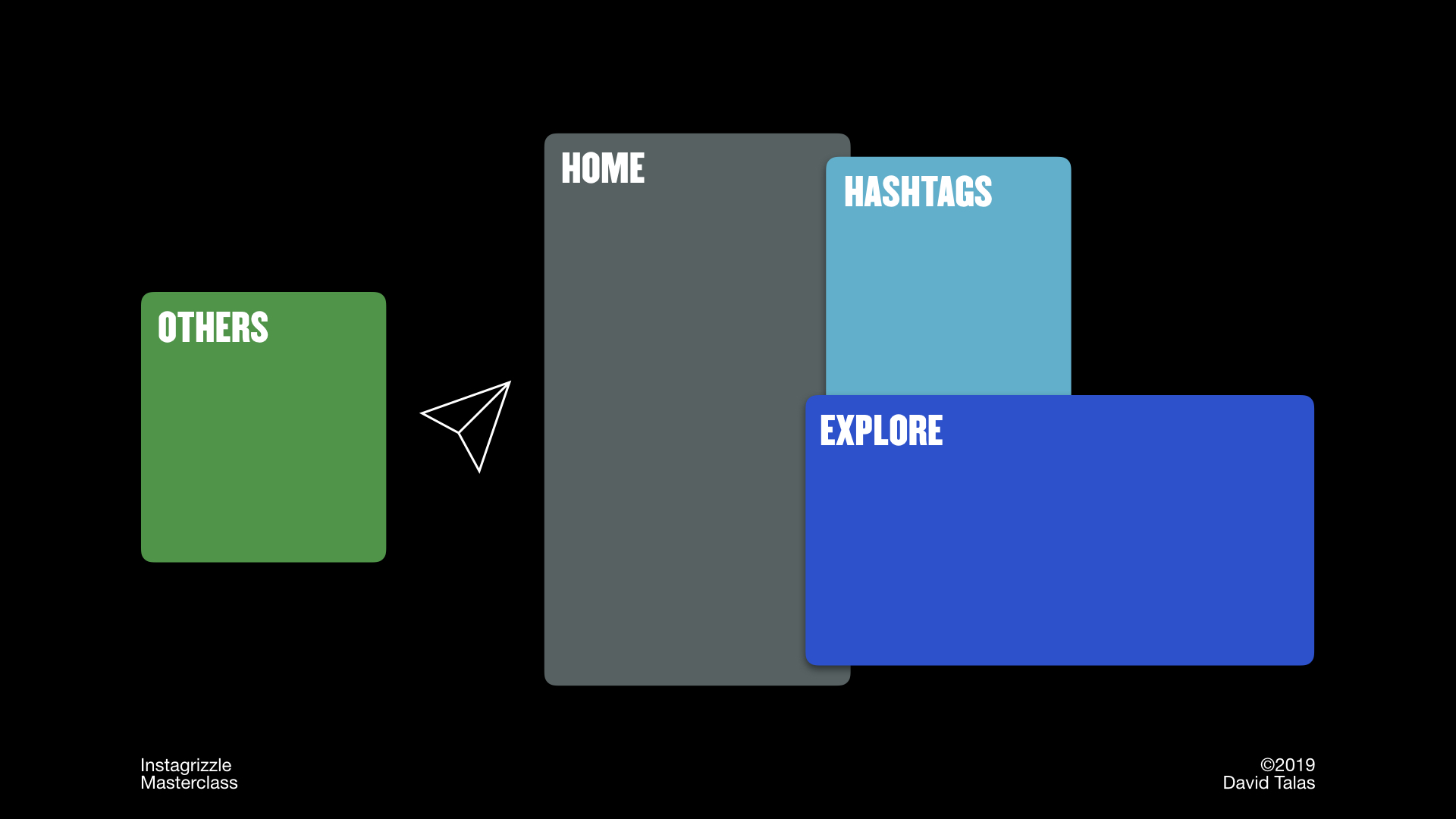 2. How the Instagram algorithm works
Social media algorithms have some similarities to each other, but there are always specific things for each platform. In the course, you'll learn both. You'll understand the dynamics of Instagram's Home, Hashtags, Explore and "others", how the Explore page is built using Machine Learning and AI, and how to improve your hashtag visibility.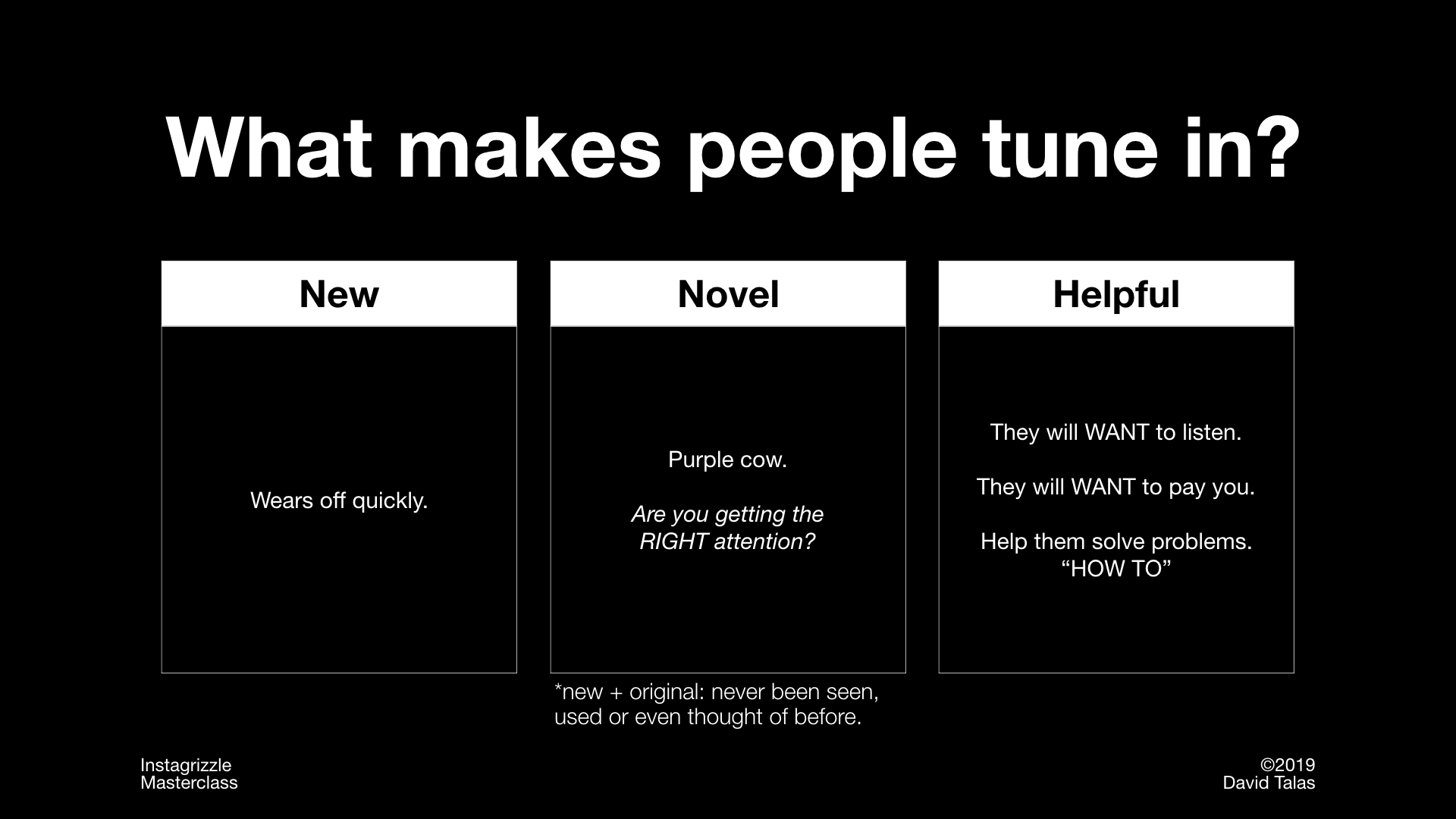 3. How to write better captions
Learning how to write is useful in every area of your life & business, but it is critical on Instagram. Among many things, you will learn how to make your captions all about the audience, how to write in a casual tone (or any tone you want to write in), and how to break it up to be perfect for Instagram.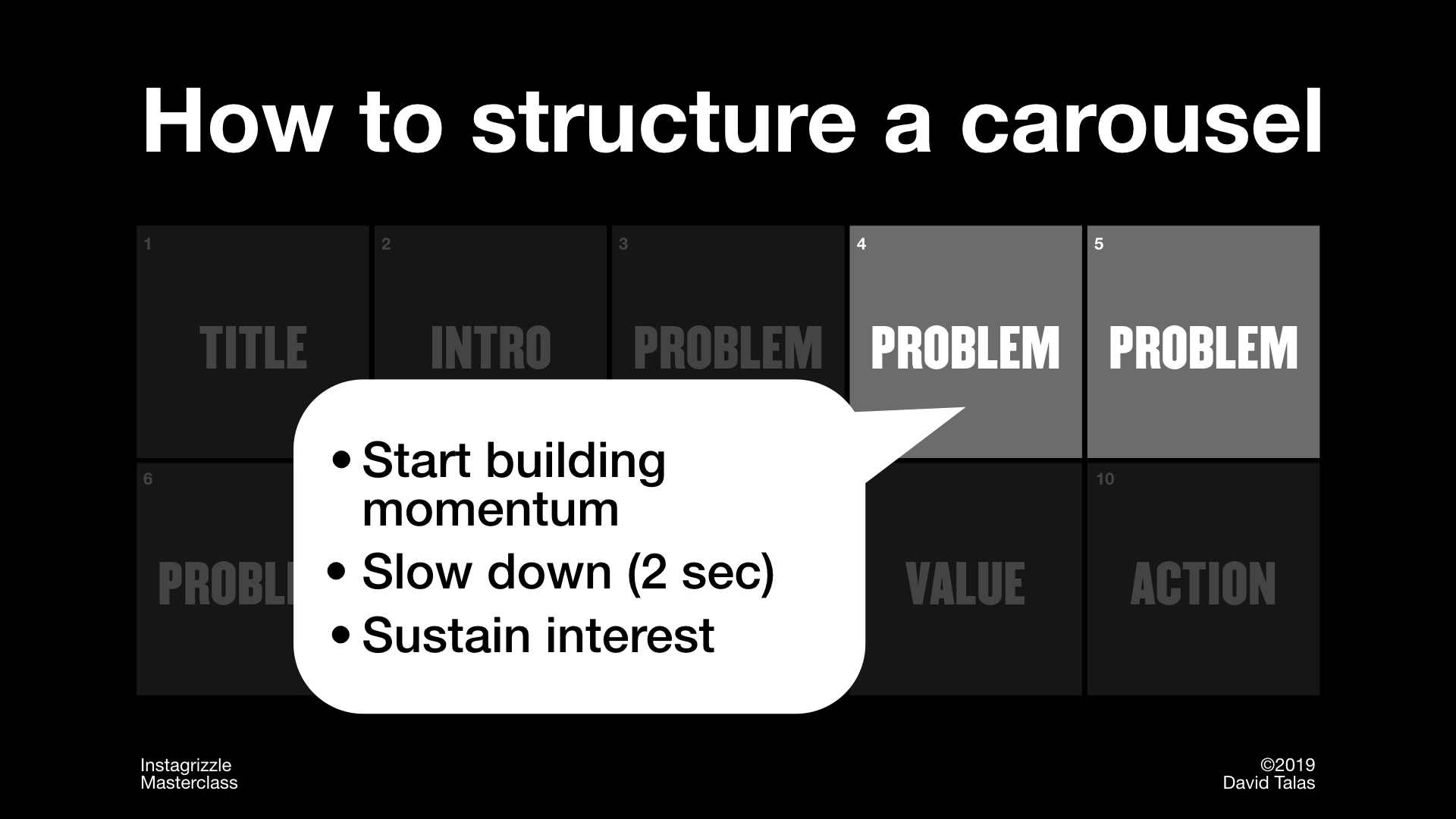 4. How to design carousels
Carousels have been the biggest factor to my success, and in the course, I'll teach you the Four Principles I use to create my carousels. Structuring them to make sure they flow easily will become intuition to you. You will learn how to use the AIDA principle to structure your posts, and how one single carousel got me over 1,000 new followers.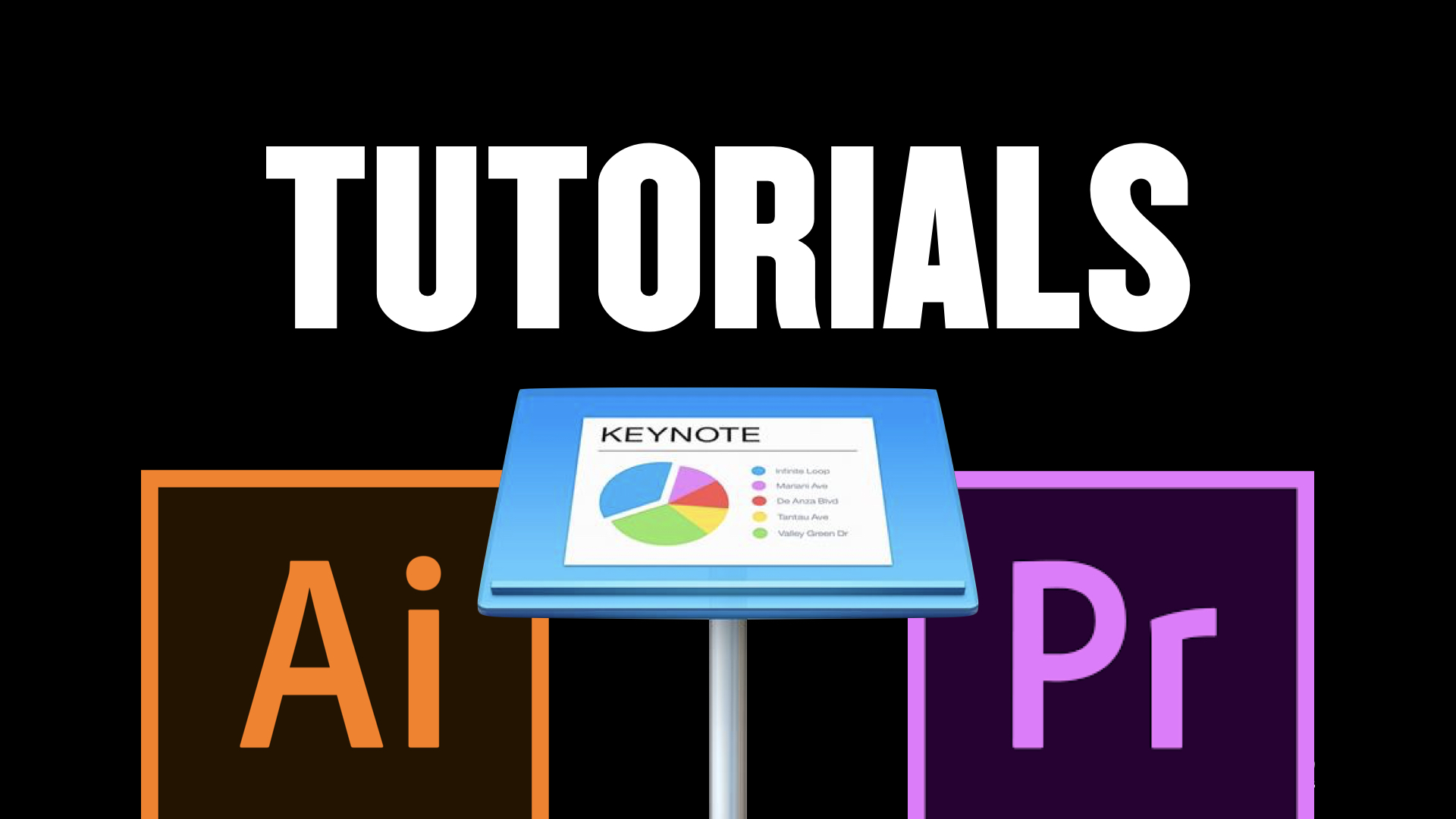 5. Keynote, Adobe Illustrator, Premiere Pro, Photoshop and Lightroom tutorials
Making content is one thing, but making it contextual to Instagram is a completely different skill. By understanding the principles, you'll know how to create your content with any tool.
The videos inside the course will walk you through step-by-step on how I design a carousel, how I edit videos (in the course, I edit one for Chris Do!), and what I look for when editing photos.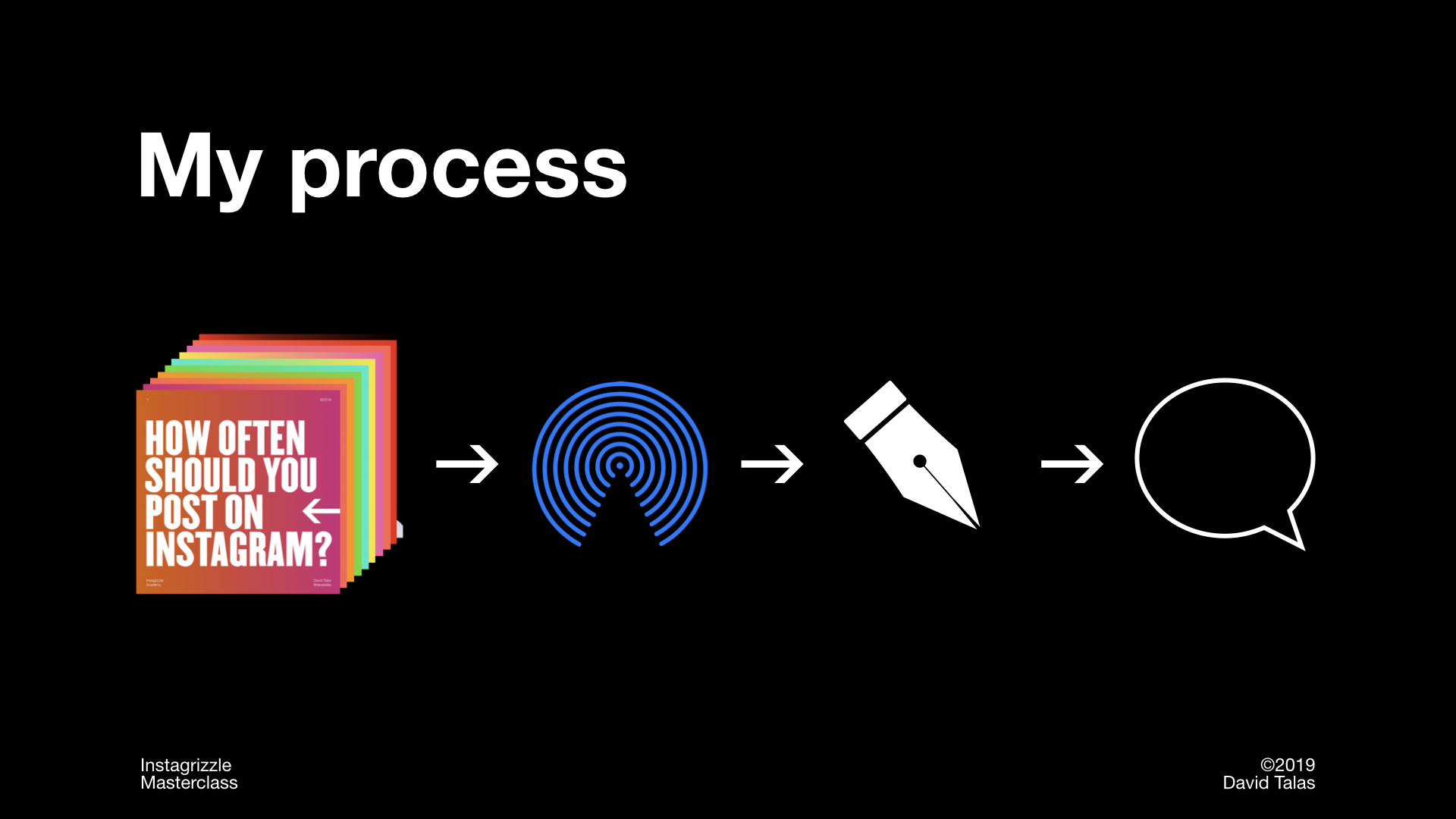 6. Productivity tips to increase content output
After making your first piece of content, it's time to make the second one, then the third, fourth and so on. Once you get better, optimizing your processes will save you hours every day. In the course, you'll learn all the methods I use to be and stay productive.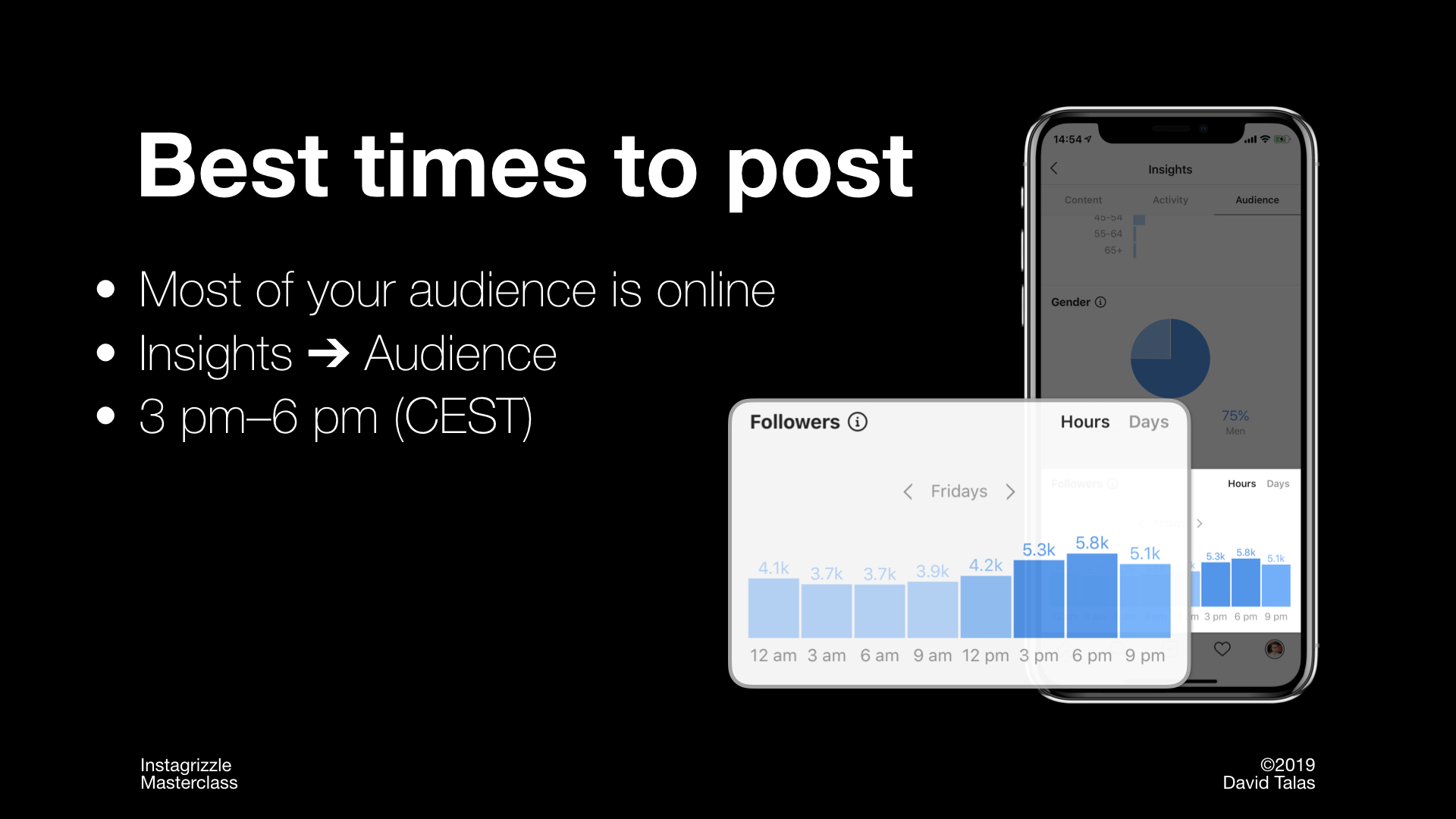 7. How to schedule your content and automate your processes
I'm highly against using any kind of bots to follow/unfollow, auto DM or other things like that, but I'm not against an efficient workflow. This module will teach you how to schedule your posts using Creator Studio or third party CMS to optimize your life and help your clients do the same.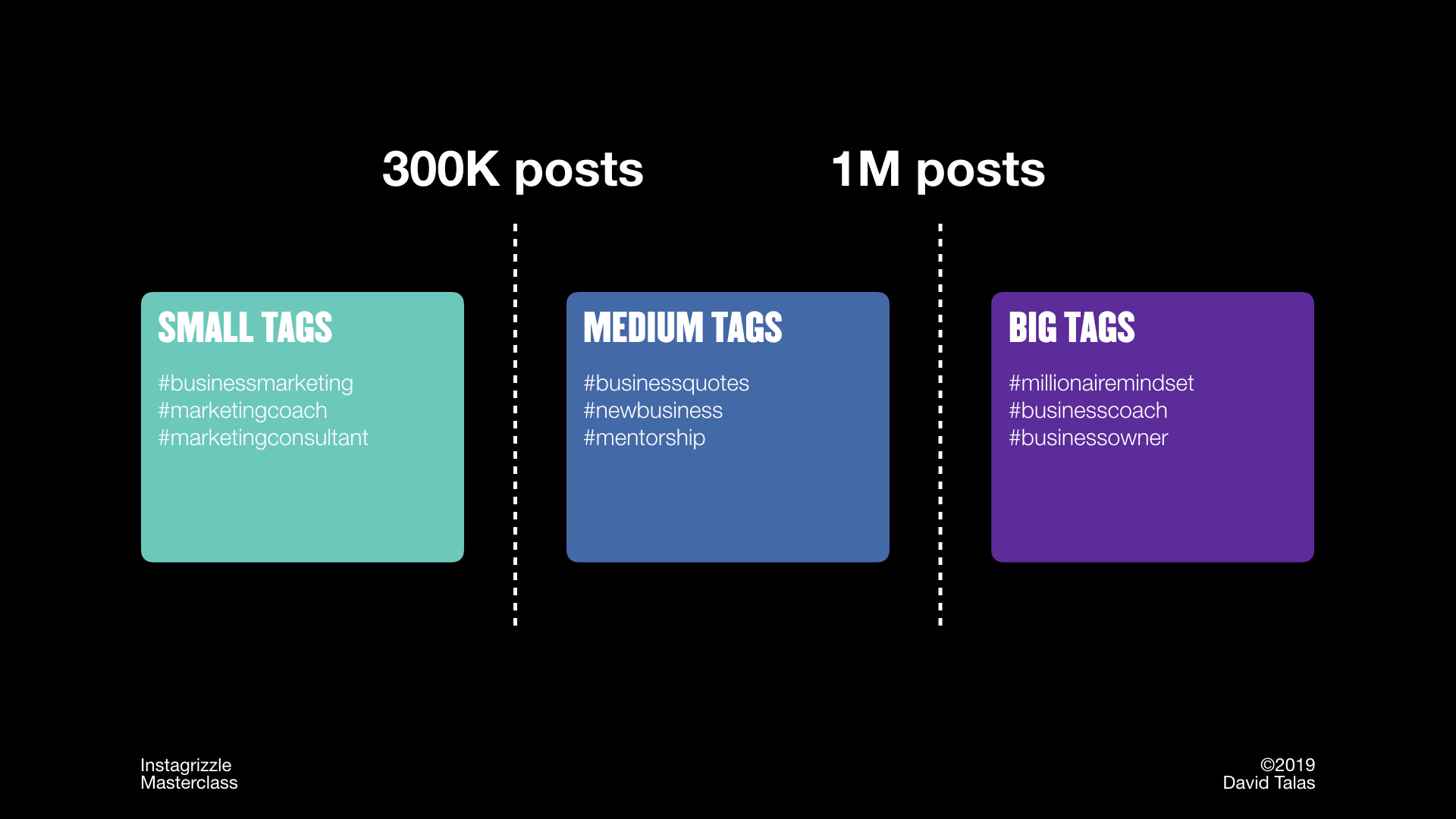 8. Growth Hacking
When starting out, the biggest problem everyone faces is that no one sees their content. In the growth hacking module, you'll learn my 5 Principles for hashtags, and my step-by-step process of hashtag research, management and optimization.
I will also share my shoutout techniques I used to gain 5,000 followers from only 6 shoutouts.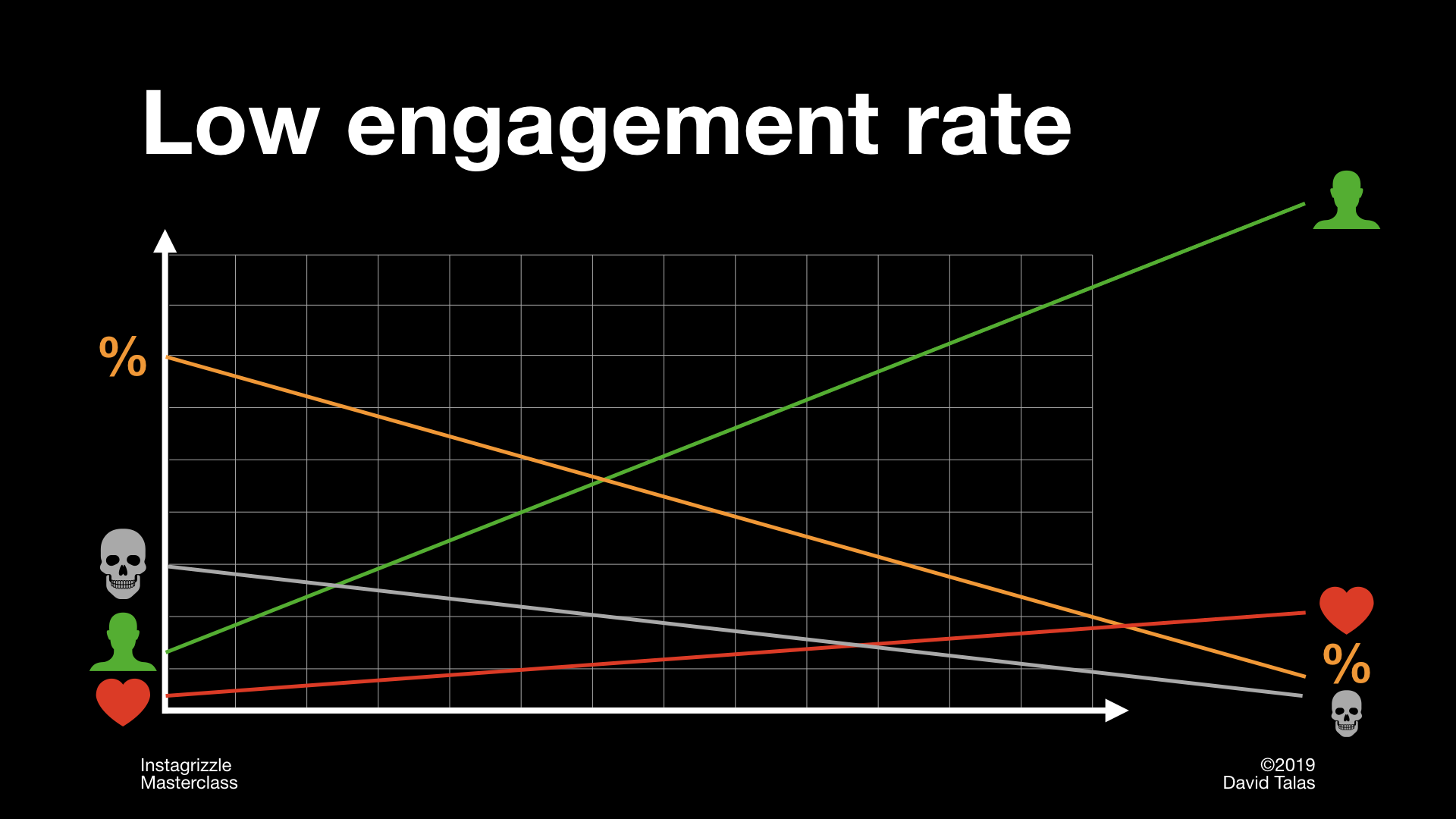 9. Dead Accounts
Even though I dropped out of medical school, I take out my inner doctor, and walk you through what could've killed your account, how to avoid that, what are some end-of-life symptoms and what's the first aid kit.
You'll also learn how to make your profile better to make sure it's appealing to others, and my technique I use in case there are a lot of inactive followers on a page.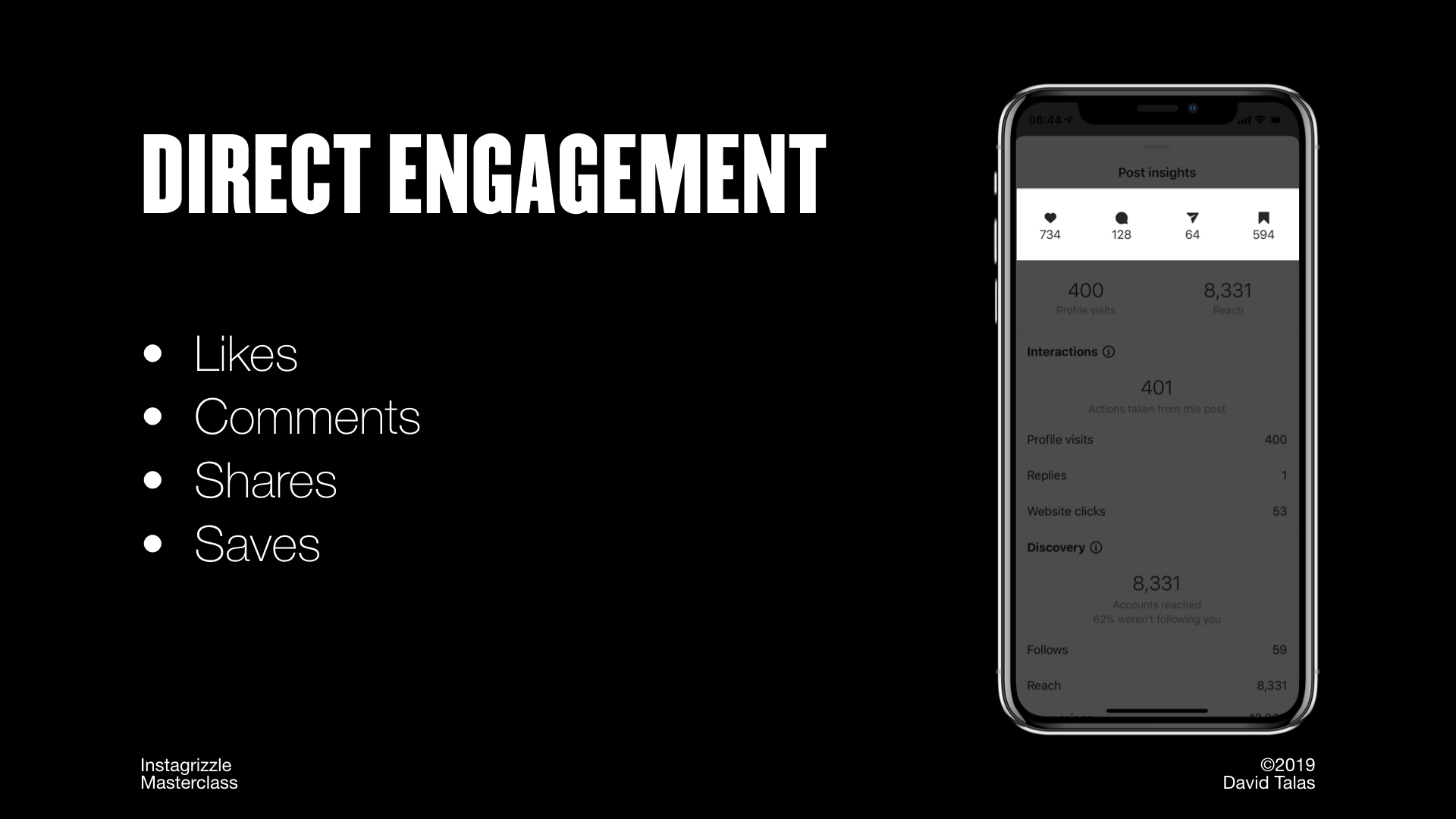 10. How to analyze your content to achieve top performance
After your content is out there, you should know what's happening to it, right? In this module, you will learn how to look at your metrics the right way and not feel overwhelmed by data.
I'm a numbers guy, but I still hate useless data. I only look for what I need, and I will teach you that too. After knowing what's going on, you'll be able to optimize your content performance.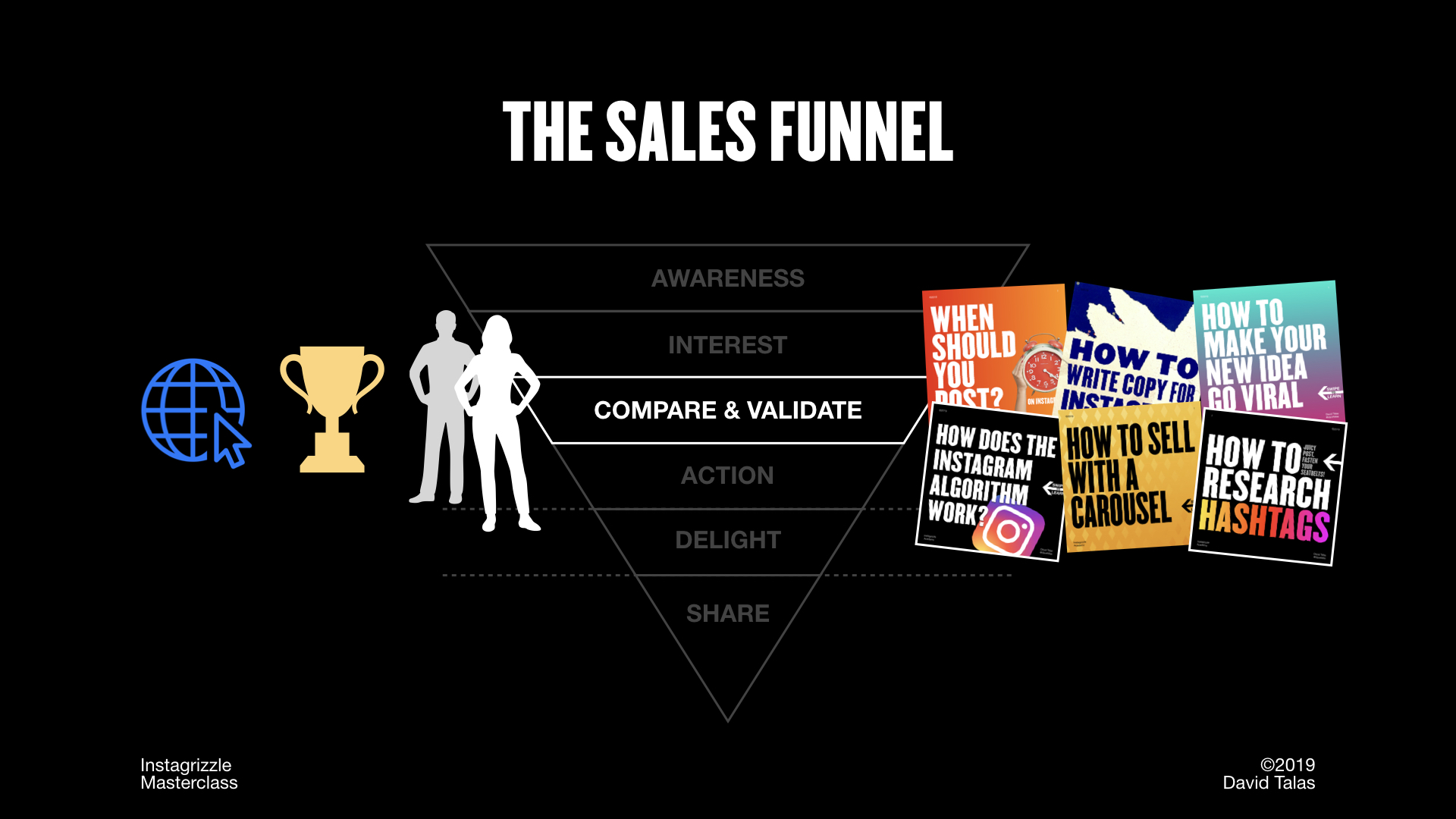 11. How to monetize your Instagram account
It's good to have an engaged audience, but the best is if you can make a living from it. In the course I share my exact techniques that I used on my accounts to sell sponsored posts and stories, and give you an introduction to build your own sales funnel.
Join the Instagrizzle Masterclass
today for $399!
Don't take my word for it, read what other students said: 
Frequently Asked Questions
Can't I learn this on my own?
It took me 6 years of trial and error to learn and figure out what works and what doesn't. My knowledge is condensed and structured into 8 hours of learning, plus the exercises.
You can find most of these things online, but this course works because of the exercises, the structure, and the community that's around it.
When does the course start and finish?
The course starts when you enroll. It's 8 hours of actionable content that you can watch and apply at your own pace.
How long do I have access to the course?
Once you sign up, you will get lifetime access to the Instagrizzle Masterclass, including all future updates.
I don't have access to Keynote or Adobe software. Can I still benefit from the course?
During the tutorials, I try to teach not only the HOW, but the WHY as well. I want to install my thinking process to your brain. I'm working on creating tutorials for other web-based and PC software, and once they are done, you'll get the update at no extra cost. Most creative software have similar functionalities, so until the course is updated, you can still benefit a lot from the tutorials.
How much time is needed to finish the course?
It's up to you. The more work you put in, the more you'll get out of it. Some people spend a little time every day, go module-by-module and apply what they learn, others binge watch the whole course in a day and then start creating.
Can I teach this to others?
Yes you can, and I encourage you to do so. Why? Because that's how learning happens. We learn best when we teach. So feel free to teach what you learn to others, but please give appropriate credits.
Isn't this course too expensive?
I'm sure there are cheaper courses out there. If $399 feels like too big of an investment for you, alternatively, you can select a 3-month installment option of $169/month.
What if it doesn't work for me?
I'm sure this course is not for everybody. If you sign up and you feel like it doesn't work for you, we will give you a full refund if you submit your request in email within 28 days after your purchase. No questions asked (feedback is appreciated).
Join the Instagrizzle Masterclass
today for $399!